When you take a look at the contents of a woman purse, you can tell her personality. You will be able to tell how organized or not she is, amongst other features that make up her personality.
Purse Contents: Wallet, headphones, phone and sunscreen
Personality type: You prefer to carry the important things around and you are a plain individual. There is a big possibility that your co-workers will like your level of organization and would not dare to mess with your things.
If you own a car, it would always be spotless and organized. You are the kind of individual who people refer to as being "brutally honest". You don't see yourself this way, all you are after is people knowing nothing but the truth.
Purse Contents: Sunglasses, phone charger, water bottle, candies, phone, several receipts
Personality type: You don't always feel fulfilled with the state of your to-do list. You are the kind of person who takes on several responsibilities and you strive to attend to every one of them.
You are the balanced kind of person- work and socially. Also, you love making people around you happy and you have empathy for nature and nurture.
The several receipts in your bag suggests that you like to hold on to your personal effects, no matter how significant or insignificant they can be.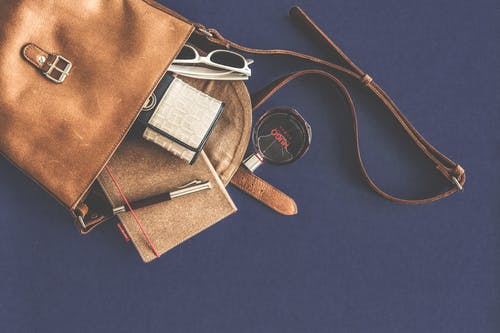 Purse Contents: Sunglasses, perfume, lip balm, red lipstick, lip gloss, eyeliner, foundation compact, mascara etc.
Personality type: You are the type of individual who cares more about their body and how they look before their clothes and shoes. Everywhere you step in, you love to bright up the place. You love to look good every now and then, and your efforts attract compliments from people.
You will also have a good memory because you hardly leave out any details in your purse. Also, for all your engagements, you are good at creating a schedule that would be convenient for you. In addition, you prioritize rest a lot because of how reinvigorated it makes you feel.